How to tell what's wrong with your refrigerator
Tips For Diagnosing: how to tell what's wrong with your Refrigerator
If you are having problems with your refrigerator then you heed help!  Troubleshooting the problem yourself can be tricky, especially if you are not familiar with fixing refrigerators. Here are some of the most common fridge problems that will help you through the troubleshooting process:It's Making Loud Noises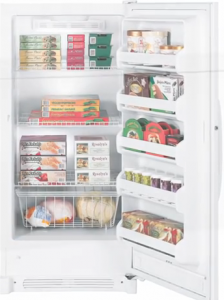 If you have a noisy fridge, try to troubleshoot the location of the noise. In most cases, the noise is as a result of a defective evaporator fan motor, condenser fan motor or the evaporator fan motor grommet.
Leaking
If your fridge is leaking, try to diagnose the reason behind the leak. It could be a defective or faulty water inlet valve, door gaskets or even the ice maker assembly. Once you've identified the defective items, replace them and keep them clean so as to prolong their life.
The Refrigerator does turn on
If your refrigerator does not start, examine the key parts such as the temperature control, overload capacitor or electronic control board.
Ice maker not functioning
If your ice maker is not making ice, then you need to act quickly. Learn how to fix it and regularly check the water inlet valve and water fill tubes.
Too warm inside the fridge
If your fridge is too warm, something is not functioning well. In order to remedy the situation, troubleshoot the most common parts such as the air inlet damper.
Fridge not dispensing water
For a fridge that is not dispensing water, the best that you can do is to check its key components such as dispenser actuator, the water inlet valve, the micro switch and the dispenser control board.
The Freezer is too warm
A warm freezer will obviously compromise the work of the freezer and cause your food items to spoil. You need to check key components such as the evaporator fan motor, defrost thermostat, defrost timer and defrost heater.
The door is sweating
A proper functioning fridge has dry doors. So, when you notice that your fridge door is sweating, then something is wrong. Check the major components such as door hinges, seals and gasket.
Light not working
Normally, the light will turn on every time a fridge is opened. However, if light does not turn on, check visually for any broken filament in the bulbs.
Fridge too cold
Just like a warm fridge, a fridge that is too cold has also some defects. Try to troubleshoot some of its common components such as thermostat or temperature control.
The fridge runs for too long
If your fridge is running too long, try to identify some key components such as the thermostat and the defrost timer.
The freezer is too cold
A freezer that is too cold can be rectified by checking parts such as the thermostat or the damper.
The refrigerator is the hardest working major appliance in your home. It is something that you truly cannot live without these days, but just like other home appliances, refrigerators can have some defects. The above are the most common refrigerator problems that will guide you in the troubleshooting process, but if you still need help, call A Same Day Appliance Repair at 813.563.2920, Trusted in Tampa Bay and Surrounding Areas Since 1989