Expert Tips for Your Next Refrigerator Repair
Your refrigerator is probably dying unnecessarily as you read this. Refrigerators are now way more efficient than 10 years ago. That's the good news. The bad news is refrigerator repair happens more often. Unfortunately, the more efficient compressors now are on all the time versus intermittently in the older designs, so they consequently are repaired more often.
Check this first: 
Make sure unit is plugged in and has power (sounds dumb but it's 7 calls a week for us)
Make sure doors are closing properly
Try adjusting the thermostat or temperature control
Make sure the condenser is not clogged up. Depending on model some are in the front on the bottom of the unit others may be in the back. If that is clogged up the unit will over heat and shut down. So clean under your refrigerator once or twice a year for preventative maintenance. Some companies offer a cleaning and component scan for short money. It is a consideration especially with the top compressors of pro units.
Should You Fix?
Older Models
Older, basic models have a basic thermostat and timer that controls the unit. Most of these parts are reasonably priced and easy to replace. A compressor issue, however, could be costly. We normally recommend a new unit as a compressor will cost about the same.
Newer Models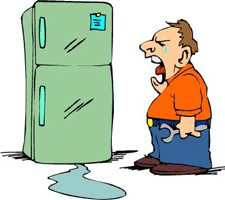 Newer models have many more electronic and mechanical parts than older models and are harder to fix, especially the Korean brands LG and Samsung. The price of refrigerator repair really depends on the defect on the unit. Defective sensors, fans or heaters could be reasonably priced and easy to replace.
Repair and replacement parts could also be relatively expensive if the compressor and/or the electronic controls are defective. Newer models are much less costly to operate and use a fraction of energy. They do, however, run continuously and require more service as a general rule. Make sure to check your owner's manual as some manufacturers may cover specific parts for an extended period over the basic 1 year warranty.
How to choose a refrigerator repair agency:
First provide an accurate description of the issue with exact model and serial number, because it is an indication of the problem and solution. Questions to ask:
How much is a completed call? Completed means you will not pay for additional time or return visit. Be careful of a repair company with a low home visit fee and charges by time. With refrigeration, it will probably add it up quickly.
Do you provide an estimate? This is almost impossible to accomplish over the phone, because different problems have different costs to repair. The technician at your home should definitely provide an estimate.
Is the Tech refrigeration certified? Refrigeration certification requires more training than any other appliance as these guys operate with different tools and more sophisticated circuitry.
Check Yelp, Google, BBB and AngiesList for reviews as service reputation differs greatly. You may also want to ask for a CORI certification to insure the tech is a good citizen. From Yale Appliance
We hope this information was helpful. If you need a refrigerator repair, schedule an appointment today at A Same Day Appliance Repair, (813) 563-2920!