Appliance Repair | What New Features Are Worth the Investment
Appliance Repair | What New Features Are Worth the Investment
Appliance Repair | Appliances have gone wild.
Once, you turned a dial to tell your oven to heat up. Now, your smartphone can issue cooking commands.
Once, you checked your fridge to see if you had milk. Now, your refrigerator can text you to pick up a gallon of 2% on your way home.
Each generation of appliances has new bells and whistles to woo buyers. Some prove valuable and live for generations: Can you imagine life without your self-cleaning oven? But others are all sound and fury, providing little value. Did you really need a TV set embedded in your refrigerator door?
It's all very futuristic. But is it also a flash in the pan? Do these newfangled appliances really add value to your home and life, or are these just more shiny add-ons that'll be obsolete in 18 months?
We look at the trends and help you decide which extras have legs.

Features That Cater to the Modern Family
Today's modern family often includes three generations under one roof. That's why we're glad to see new appliances that cater to many different chefs, in different stages of life.
Micaela Shaw, Bosch's brand manager, says new Bosch appliances consider aging eyes, young hands, and middle-aged backs.
Control panels have larger letters and numbers, which are easier to see and understand.
Bosch Benchmark 30-inch ovens ($2,899 to $3,199) have side-opening doors that eliminate the need to bend over a door to pull out the roast.
The Bosch 800 Plus dishwasher series ($1,300) has an "info light" that shines on the floor to let you know it's on and counts down the time left on the wash cycle.
Appliance manufacturers also understand that even though several generations may live under one roof, they likely have their own discrete living spaces. General Electric's Lou Lenz calls it "separate but together."
Accordingly, manufacturers are shrinking appliances to fit into renovated basements now housing adult children in search of jobs and in-law suites housing elderly parents. BlueStar has a 24-inch oven that slips easily into small spaces ($2,300). And Blomberg offers a 22-inch-wide refrigerator/freezer that easily fits into tiny kitchens ($1,500).
Should Your Appliances Be Wired?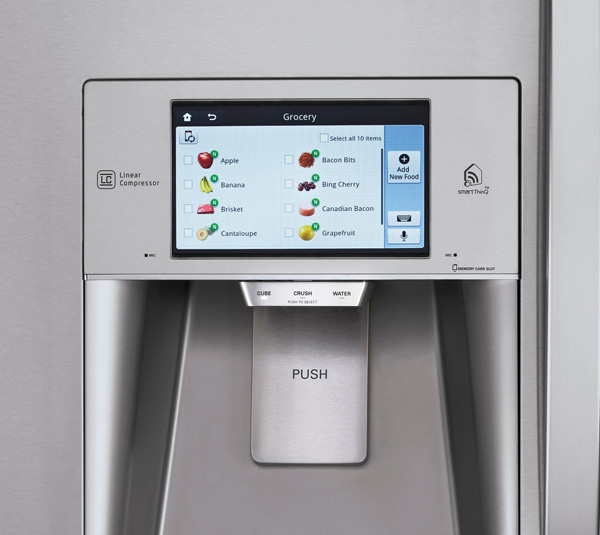 Appliance manufacturers are all over the connection craze, selling models that yack at you all day long: We're out of eggs! Preheat me! Turn me off!
We're not sure that homeowners need one more text in the middle of a business meeting. But manufacturers are peddling the notion that we want to be connected to our appliances 24/7.
How about a refrigerator that texts you when you're low on staples, and even lets you order them online straight from the fridge's display panel?
Sounds great, but the system only works if you inventory the food as you put in the fridge, which sounds like a lot of work to us — especially for the price tag of $2,490 and up.
Amalia Parecki, a certified kitchen designer from Portland, Ore., doesn't think texting appliances will catch on. "It's what's going to fail first, and what's going to get outdated first," she says. "Technology has to be time-saving or we're not going to use it."
Refrigerators with Multiple Doors
Remember the days when refrigerators had two doors — one for the fridge, one for the freezer? Today, more doors are the trend. Models from Toshiba, Samsung, and LG are offering models with four or more doors.
Samsung's French Door and Side-by-Side Food ShowCase Refrigerators ($5,999) offer features like café doors for the top cooling compartment, a separate drawer for vegetables (which are cyclically bathed with moisture to keep them fresher longer), and three freezer compartments with individual temperature controls.
LG's door-within-a-door refrigerator ($2,300) lets you access frequently used items by opening a thin panel, instead of that big, heavy door. Since U.S. households open a fridge up to 40 times a day, and mostly to get the same milk, butter, or yogurt, the door-in-door concept cuts cold loss by 47%, compared to other French door fridges, according to the manufacturer.
We like the saving energy part and think that organizing all your food in their properly cooled compartments can extend the life of your produce, cheese, and meat, saving you money.
But if you're the type that can't remember your keys, then opening and closing a zillion doors trying to remember where you put the Swiss cheese seems like a hassle to us.
A Dishwasher Upgrade That's Worth It
What we do think will save time and energy are the new bottle-washing jets built into the top rack of GE's top-of-the-line Profile dishwasher ($1,199).
Put the hard-to-clean bottle, vase, or travel mug over the jets on the top rack, and water shoots into the container, forcing out dried coffee and flower scum.
This is a why-didn't-they-think-of-this-before feature, which we predict will become a dishwasher staple someday. – House Logic
We hope you found this information helpful. If you need an appliance repair, schedule an appointment today at A Same Day Appliance Repair, (813) 563-2920!